| | |
| --- | --- |
| Beschikbaarheid: | Niet op voorraad |
Extra info : de lenzen van deze Shred Belushki zijn doorzichtig, er zit een spiegel glas in welke door zon weerkaatst maar in schaduw transparant is. Ideaal voor in het verkeer (tunnels) maar ook tijdens het riden van BMX trails of andere sporten. Check onderstaand foto-schema waar je kan zien hoe de verkleuring in de glazen verloopt.
Shred Sword Brushalloy Charcoal are a round base six sunglasses combining NoDistortion with NXT superior performance optics, steel or gold styled arms with laser engraved logo and brushed acetate on the frame and temple tips to distinguish the style from the masses. Shred rapid photo lenses option for performance in all light conditions.
Sword brushalloy charcoal PHOTO
Lens: Rapid photo burn reflect S1 - S3 (all conditions)
SHRED RAPID PHOTO lenses adjust their tint rapidly and progressively to changing light conditions and provide the eye with necessary protection and optimized performance in all light conditions.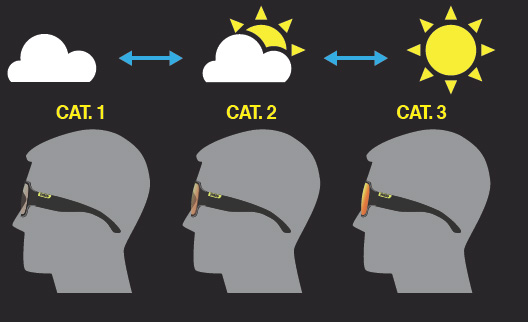 Main advantages of NoDistortion lenses::

Stunning crystal clear vision.
Superior durability and scratch resistance.
Incredibly high impact resistance tested on windshields of jet fighters and helicopters.
Specifications:
NoDistortion with NXT lenses
Base 6 Curve
3 barrel forged stainless steel hinges
Steel and Gold styled temple options
Laser engraved logo
Handmade in Italy
Size: 

The tough 3 barrel forged stainless steel hinges provide ultimate mechanical precision.
Multilayer acetate - This frame is handmade through a long process of milling uniquely crafted cellulose acetate sheets. Once assembled, the sunglasses go through tumbling drums filled with beech and birch wood and polished by hand to provide SHRED's stunning matte finish. The basic material for cellulose acetate, plant cellulose, is the most readily available renewable material on the planet. Cellulose acetate comes from wood pulp, an entirely renewable resource. It also has a much lower CO2 manufacturing footprint when compared to petroleum-based products.
Handmade - For the perfect finish on these sunglasses we handmade each pair and used the finest materials to create items with a level of quality and style that cannot be replicated.
Base 6 curve lenses - The base determines the form of a lens and measures the
surface curve. A base 6 curve lenses mean the sunglasses will provide a flatter look to the frame.
Made in Italy - These premium sunglasses are stamped in their entirety with the superior quality only associated with Italian shades craftmanship.
NoDistortion with NXT - As a result of our constant and relentless innovation, we sought to improve upon an already stellar offering of sunglasses by bringing our NODISTORTION™ technology from goggles to shades. Crafted and tested under the most extreme conditions, NXT™ lenses are tested under the harshest of conditions with the US Air Force. Designed to provide unparalleled vision quality and durability, liquid cast NXT™ lenses result in crystal clear vision.